Main Content
Slideshow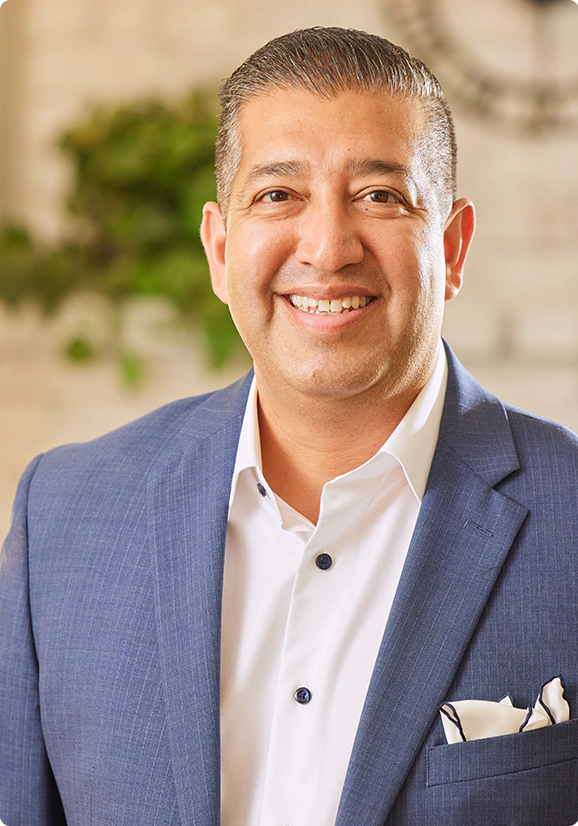 Michael Jacobo is the owner of the Jacobo Realty Group with Berkshire Hathaway Home Services California Properties. Michael has continuously ranked among the top 1.5% of all Realtors nationwide and top 100 within the company. This is a tremendous honor considering Berkshire Hathaway Home Services California Properties employs over 60,000 agents.
Michael, a Southern California native, has been a full time real estate agent for over 20 years and has been involved in more than 1,000 real estate transactions. Michael specializes in negotiation, strategic planning and motivating our dynamic team to a higher level of success. Being a very competitive person, Michael's motto is "Never, never, never give up!".
Michael's greatest pleasure is spending time with family and of course his daughters Alyssa, age 14 and newborn, Julianna. He also enjoys sports whenever possible and loves competing in triathlons, marathons, playing soccer or out playing a round of golf.
Michael is also bilingual for any of our Spanish speaking clients we may have and he belongs to the National Association of Hispanic Real Estate Professionals.
LEARN MORE +
07
What Our Clients Are Saying
Testimonials
It was great working with Michael. I have bought a few homes over the years and he is at the top of my list for agents that I would use again and refer to friends. Michael started by calling us right away after we inquired and be prompt and available through our search for a home and then he was quick and precise when it came time to make an offer and sign documents. He kept everything moving so that we were ready to close before our scheduled closing date.
daniel k harriss
Michael did a great job selling my house. He had a large network of support and contacts to help prepare the house for listing, and he used a very modern and effective strategy for marketing. Overall the process was as smooth as could be expected with selling a house.
KyleBartow5
We worked with Michael for the sale of our home as part of a re-location service through my employer. Our decision to sell came on short notice and Michael and his team were instrumental in making the process as seamless as possible. He is well versed in the entire marketing / sale process and was very knowledgeful of the needed items for our third party relocation company. He also communicated with the agent from our purchase out of state as we were contigent on our sale in San Marcos. Michael's knowledge and negotiating expertise were instrumental in successfully negotiating the terms of our sale with our buyer. We felt that he had our best interests in mind the entire time and represented us to the best of his ability. All in all, it was a great experience working with him and we would 100% recommend him for future business. Thanks Michael!
penicna
Michael is everything you could want and need in a great realtor. He's knowledgable about the area and market conditions, has relationships with other realtors and works his hardest to find you your dream home. Always quick to respond to a question or about a listing and on top of documents and paperwork that need to be filled out. In addition to all of these wonderful business skills, he's also a wonderful person and a joy to have on your side.
chip hooley
Michael was OUTSTANDING!!!! He communicates every step of the way and was always available if we had any questions! Not to mention how fast he was able to sell our home. He has a great marketing plan to really showcase the best of your home. We would definitely use him again for future purchases.
brandeny
Great Experience. Michael was great at communicating, great at knowing what we needed and how to provide it for us. We were living out of the area during our sale and he literally took care of everything for us. Amazing person to represent us and i would recommend him to anyone looking to buy or sell a house.
Michael did an outstanding job. He was on top of things. He always made sure his customer satisfaction is top priority. He arranged multiple showings for same house, very receptive to our requests. He is the best.
bhaskar js
My wife and I were introduced to Michael Jacobo in Carlsbad, CA via our Berkshire Hathaway broker from Jericho, NY (who sold our home). Our initial meeting with Micheal was in person @ his Carlsbad office, he asked us all the right questions regarding what we were looking for in our new home. We flew back to New York and from there on out everything was done via phone and our search began. Mike is super responsive so communication was no issue. Since he knew exactly what we were looking for, he only needed to show us a few homes that matched our criteria. He was great and our walkthrough was done via FaceTime. We placed an offer (sight unseen) on the 3rd house he showed us. Our mortgage broker, whom we have worked with on two previous occasions, even told us that Mike was very responsive and thorough with all of the paperwork needed in preparation for the closing. Mike hustles and hands down can help you find your next home. Mike thank you so much for helping us find our home, we love it. Will call you in a hand full of years to sell it :).
Michael is by far the best realtor my wife and I have worked with. We were a bit of a tricky case because we had many different moving parts including coming from out of state, but Michael's expertise, responsiveness, and flexibility helped us successfully navigate all challenges effectively and efficiently. I have no critiques for him and will refer all my friends his way. Thank you, Michael!
Practicemakessean
Michael went above and beyond to help me find my home in North County!He is extremely knowledgeable and guided me every step of the way of the home buying process. I was especially impressed with the level of detail and care that he took in ensuring that I found the right home that fit my location, budget, and needs as a homeowner. I'd recommend Michael to anyone looking to buy property in the San Diego and North County areas.
josettelast5